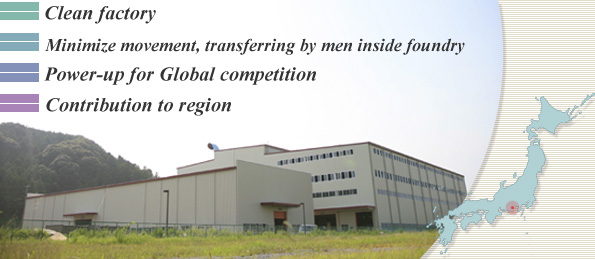 " what? Is this really foundry ?"
When you step in our new foundry, you can not stop saying. You will feel, a comfortable atmosphere, equipment machine, columns with gentle coloring, and feelings good breeze from the air intake. There is no spilt sand on the floor as we can see in many foundries.

Melting and pouring area are bright and with fresh air. This is a result of a thorough analysis of the air flow in the factory and an proper dust collector. Air is taken from outside as much as possible, and it is exhausted with filtering from vertical storage in the center part.

It is possible to work with enough brightness and with pure air area because most work is done in the outer area in the factory. Spilt sand is collected with the conveyer located under the ground, and it is recycled.



In the work done in the factory, the movement of the thing is indispensable. But those works by cranes and forklifts cost energy and money and man power.

KURITA production system has completed and can make minimize movement by man power. If you need some pattern or mold, you only have to push button. The one you requested will be shown with the best timing ,with the best location. The movement is automated, and has been minimized by the combination of a very efficient conveyer line and vertical storage.

(1) The strong point of Kurita Industrial that consists of foundry, machining, and assembly must be reconfirmed.
(2) It must be discussed what kind of new mechanism is necessary to power-up the strong point.
(3) Keep modifying the system that can convert our advantage to be strong enough against world wide competition.
(4) It is always modified whether the system functions efficiently.
(5) If it is necessary, the system improvement is executed.

(1) The social contribution activity through our business is done.
(2) The culture and the custom in the region where our business is done are esteemed, and it aims at the development of the region.

At the present time, we have foundry and machine shop 1.
Until the year 2010, we will have machine shop 2 and assembling shop at Daito site. That means we will have more powerful total production line in 2010.
(A)Foundry in operation
(B)Machine shop 1 in operation
(C)Machine shop 2 undecided
(D)Assembling shop undecided